Hey! Happy Saturday! Matt here.
Welcome to the Construction Curiosities newsletter. Especially to the New Subscribers.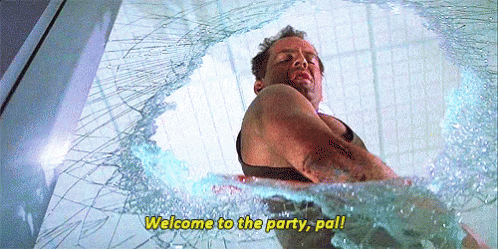 We continue to grow each week! Thanks for spreading the word to your world!
Know someone that would benefit from the Newsletter? Want to become a Paid Community Member for Free?
Join the Referral Program to earn Membership perks like attending and participating in live virtual Podcast recordings!
Join the Referral Program & Earn Perks!
This weekly Newsletter explores my Curiosities about the Construction Industry. It's meant to make you think, smile, and become a better, more well-informed Construction Professional.
Subscribed
---
Summary
This week we will look at:
One Challenge: Make Everyone's Life a Little Easier
One Article: 5 Charts for 2023
One Tweet: You're Not as Good as You Think
One Quote: Completed Projects Demonstrate What We Know
One Meme: PUSH vs HƧUᑫ
---
One Challenge
I had all the intention in the world to write about something different this week… But then yesterday Maegan Spivey (remember her from CC #25) made this simple yet genius LinkedIn post.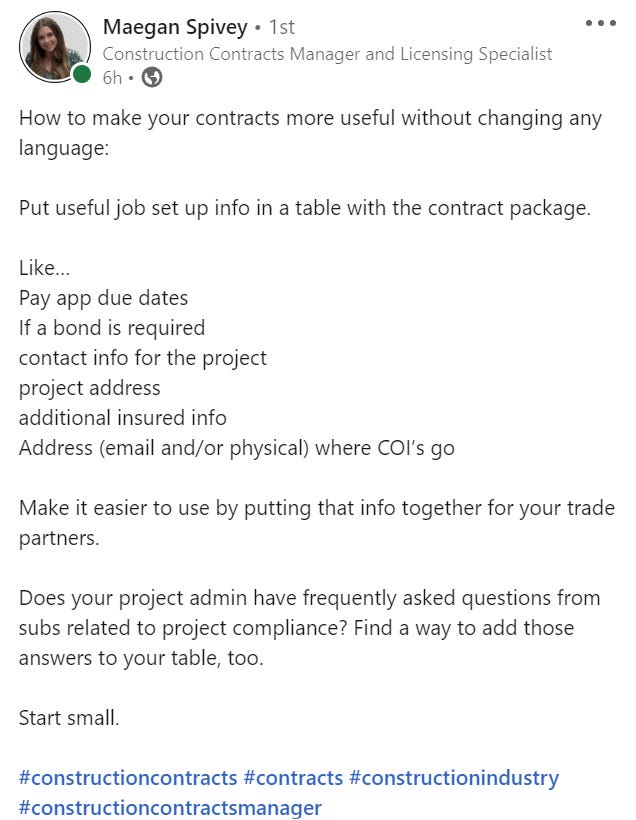 It was a simple post with a simple idea. But it got my mind running. Why are contracts too dang hard to find the important stuff? Why doesn't every contract have this? Why do you have to thumb/ scroll through 57 pages to find out the contract value and how much retention is being held???
Why aren't we constantly looking for little ways to help our teams out?
Someone may argue: "NO ONE WILL READ THE CONTRACT IF YOU DO THIS!"
I would counter:
"First of all,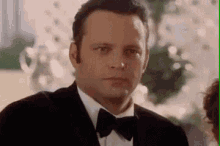 Secondly, If they don't want to read the contract, they still aren't going to read the contract even if you hide the important stuff like Easter Eggs."
All this begs the question, what simple thing can we do to make the lives of those around us much easier? If you are a contract administrator, what are you doing to make the life of the PMs a little easier? If you are a Project Manager or Project Engineer, what are you doing to make the sub's life a little easier?
Garrett Moss chimed in with this comment.
Why do we as an industry have the tendency to make the lives of everyone hard (and cost everyone more time and money)? Why do we have contract templates with things that ALWAYS get negotiated out?
Challenge this week: Identify one simple thing you can do that would make the life of your team (internally or externally) a little bit easier. Then Do It!
Let us all know what you are going to do!
---
One Article
As the new year approaches, the big question on construction leaders' minds is what's in store for 2023. Top construction economists say much like in 2022, signals are mixed.

Here is a look at five key indicators and what they suggest for contractors in the year ahead.

Architecture billings' positive streak ends
Construction backlog remains steady
Material prices remain volatile
Labor shortages continue
Construction input costs rise
Check the Construction Dive Article to see the 5 Charts
---
One Tweet
This can hit on so many levels. From business owners/ entrepreneurs to employees.
How are you intentionally improving, so that you do become as good as you think you are?
---
One Quote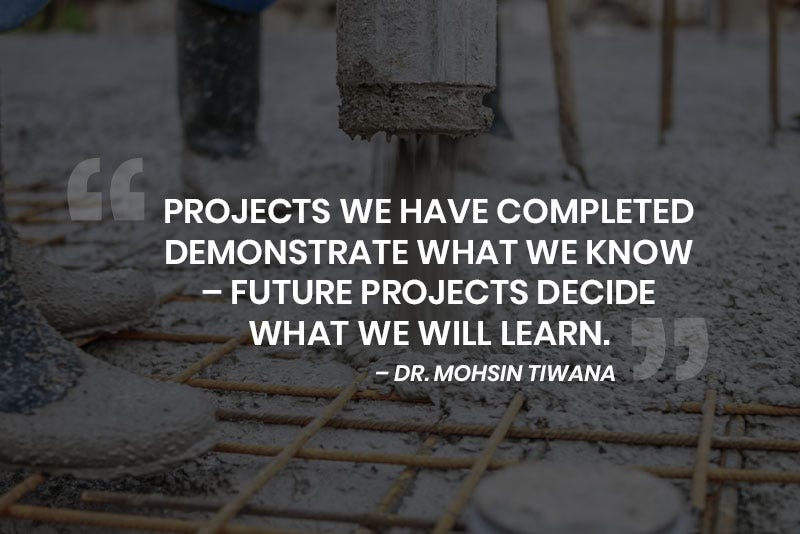 ---
One Meme
🚨 INCOMING DOOR DOORK MEME 🚨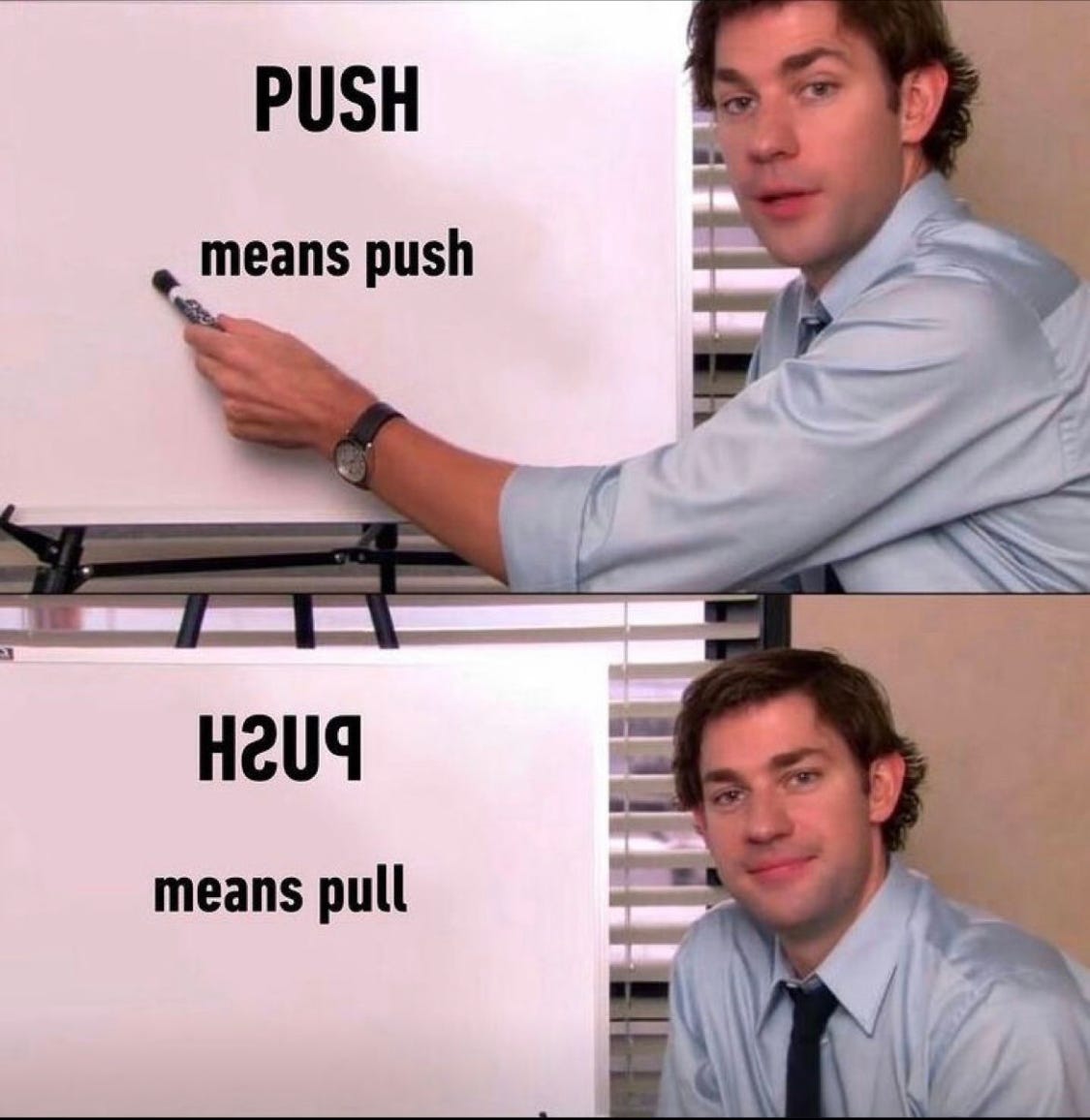 I borrowed stole this one from The Door Dork himself, Benji Bolick. For more #Doork humor and door fails, give him Follow a On LinkedIn.
---
Looking for End of Year Tax Write-Offs?? 👇
Construction Curiosities is a reader-supported publication. Paid Community Subscribers get access to attend and participate in upcoming Live Podcast Recordings. It also helps pay the bills to keep all this going and growing. Check it out:
Appreciate your Support!!!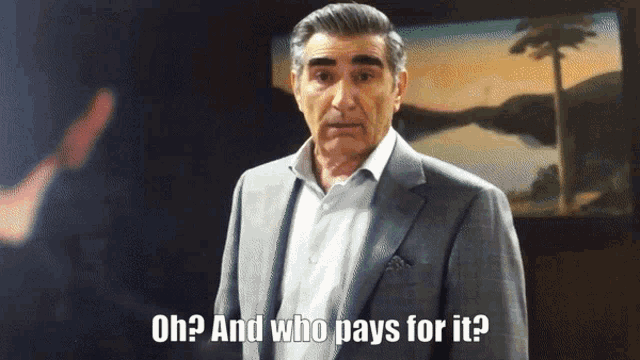 Want to be featured in an upcoming Reader Spotlight?? Shoot me a message at [email protected] and let's chat. It can be anything construction related! Look forward to seeing and sharing what you all are working on!
Welp, I gotta go get back to work… Gotta find someone to make their life a little easier…