Hey! Happy Saturday! Matt here.
Welcome to the Construction Curiosities newsletter. Especially to the 24 New Subscribers.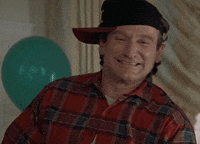 We continue to grow each week and much of that is a credit to this awesome community. Thank you for continuing to be ambassadors for this fun project.
Join the Referral Program & Get Prizes
This weekly Newsletter explores my Curiosities about the Construction Industry. It's meant to make you think, smile, and become a better, more well-informed Construction Professional.
Subscribed
Summary
This week we will look at:
One Interview: Maegan Spivey, Contracts Champion
One Article: People Just Don't Want to Work Anymore
One Podcast: The Construction Hall of Fame
One Quote: Can't Unsign a Contract
One Meme: Is this a Change Order?
---
One Interview
I've said it before and I'll say it til I'm blue in the face. LinkedIn has been an awesome place where I've met a ton of awesome people. Maegan Spivey is one of those people. She is a Construction Contracts Manager and Licensing Specialist. I poke fun there that she handles the boring stuff and she's gonna put her family to sleep over Thanksgiving when they ask her about work…. I was joking.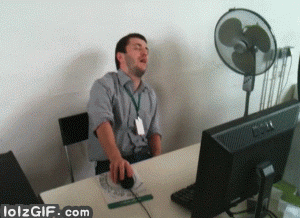 Well kinda sorta joking.
But jokes aside, Contracts are an extremely important aspect of any Contractor's success.
They can make or break your project. Really bad ones can even put you out of business if things get sideways. That's (𝘰𝘯𝘦 𝘳𝘦𝘢𝘴𝘰𝘯) why it is so important to understand them, their purpose, and their utility.
With that said, having a Contract Specialist in your court is never a bad thing. And Maegan is great, so I wanted to share some of her wisdom in another Construction Curiosities Q&A.
Let's get into it.
Q: Give us a quick introduction of yourself

A: I am a construction contracts manager, wife, and mom to three littles.  My husband and I both are in construction and that's how we met!  We've typically worked for "lean and mean" companies where you do a little bit of everything and that means we've seen some ugly stuff happen in our careers – the stuff people think will never happen to them (because guess what: it does and usually all at once!).  I care about helping smaller construction companies protect themselves as much as possible.

Q: What led you to get excited about something so many folks find boring: Contracts?

A: Ha! This is a good question, especially since I used to be in this camp.  My excitement is twofold: the usefulness of contracts and the protection they can provide.  I loved when I worked as a project admin that I didn't have to wait to get answers from other people, I could get many questions I had answered directly from a contract.  I also find a lot of comfort in knowing my company has some good risk boundaries in place, baseline protection – contracts can't avoid all the bumps in the road, but hopefully they'll keep you out of a ditch.

Q: What are a couple of misconceptions about construction contracts you've found along the way?

A: That more legalese does not mean a great contract.  And thinking that contracts that move all the risk onto the other party are a savvy business move – they aren't.  A one-sided battering ram of a contract leaves a bad taste in people's mouth.

Q: What's been your biggest surprise as you've been doing this?

A: Honestly?  That more construction companies don't have a part-time contracts manager.  When I found out what contracts managers do, I immediately saw how useful having even a part-time eye on contracts could be for small to mid-size construction companies.  They can also provide help in other compliance areas.

Q: What are some tips for folks to ensure they are writing/ negotiating better contracts?

A:

Make sure you can read your own contracts.  If you can't understand what your contracts say or haven't updated them for years, you should make some changes.   Write them as a business tool to be useful while managing risk, not a monument to legalese.  Have the contract reflect your philosophy about how you do business and even define business processes where appropriate. 
Make sure you know what you're reading when someone sends you a contract – even if you need to reach out to your construction lawyer or a construction contracts manager to "translate" until you get the hang of it.  
The owner/head manager makes the decisions about what risk to accept and what to reject.  Once you understand where the risks are in contracts by reading them, they'll know what they can/can't live with, that's the start of negotiation.  And be aware sometimes it's not even damages and liability that you may need adjustments, some contracts have so many administrative responsibilities written in to them, you may need to adjust your pricing to comply or even hope to make enough to cover overhead!

Q: A while back, I asked you a simple question which I didn't know at the time, led you down a rabbit hole of research. Care to share your thoughts on where the construction industry is going with Web3, NFTs, and Smart Contracts? And what companies can do now in preparation?

A: I do think Web3 and Smart Contracts are going to become commonplace and construction will not be immune.  I think the best thing a company can do to prepare is having a healthy business NOW – streamline and fix your processes, make them work for you and your company goals.  This may seem out of place in a technology discussion, but technology will only make your problems more rigid and that much harder to fix because you've "hardwired" the process.  If you have scope problems, serious cash flow issues, paperwork bottlenecks, etc. you'll still have the same problems but worse because they've been coded into the immutable blockchain.  Microlevel: Fix your business's problems and keep things running well.  Macrolevel: I think companies funding projects will prompt GC's to adoption and then it will trickle down – the companies that lean in to figure out how to adapt and thrive will have a competitive advantage.
Thanks, Maegan for participating and being a big supporter of the Newsletter!
If you'd like to connect with Maegan and follow her daily contract tips and insights, connect with her on LinkedIn: HERE
I promise it's not actually as boring as I pretend it to be.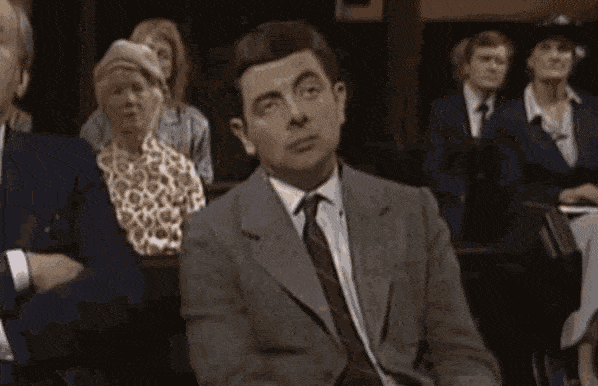 ---
One Article
These types of headlines always give off the "Back in my day" vibes to me…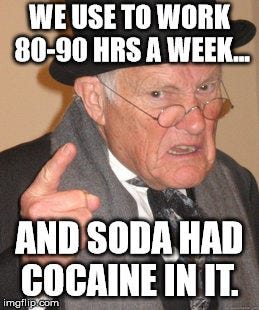 But…. It's not always what the headlines say it is….
Whether it's a cry of frustration or an angry complaint, the phrase "people don't want to work anymore" seems to have permeated social media as businesses of all types and sizes lament the great resignation.

Here, Construction Dive speaks with multiple sources about the dangers of assuming people don't want to work, and how to proactively think about recruiting Generation Z and millenials to the trades.
Well, with the people that I deal with, I'm not seeing that [they don't want to work]. The young folks that I work with and meet, they're ready. They just want to be given a chance. They want to be given the training.
– Robb Sommerfeld (Executive director, National Center for Craftsmanship)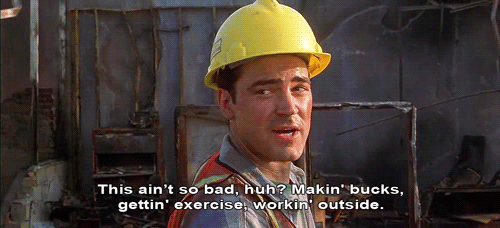 ---
One Podcast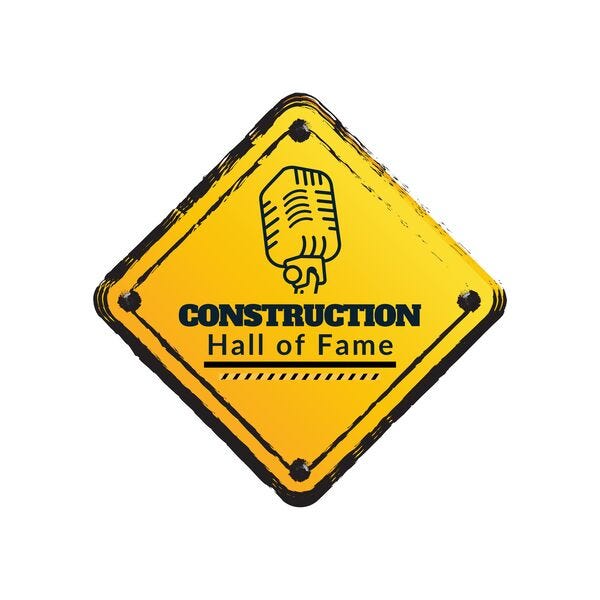 Matt Gorgolinski has been posting some awesome clips from his Construction Hall of Fame Podcast so this week I dove in and listened to the most recent episode: Brent Kelley's AEC Success Story — From Intern To Managing Principal @ Corgan
Such a great episode and valuable insights from anyone growing a team to someone looking to grow their career.
I look forward to catching up on the other episodes he has out. You can check out the podcast on all major podcast platforms and from here:
---
One Quote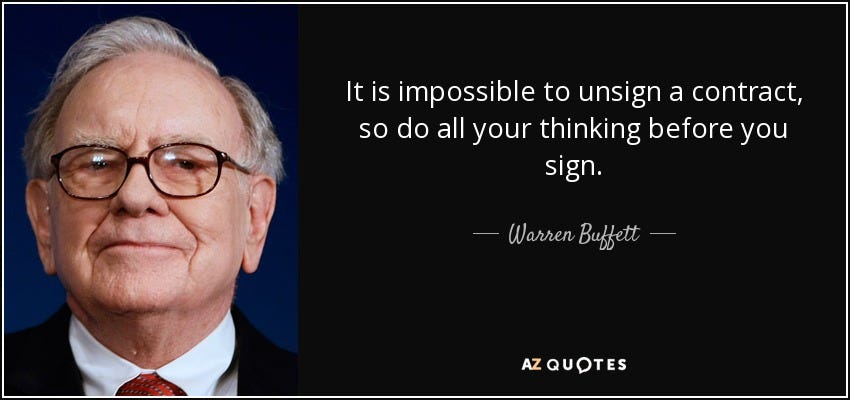 I know I've been guilty of thinking afterward and trying to negotiate after the ink is dry is a fruitless endeavor.
---
One Meme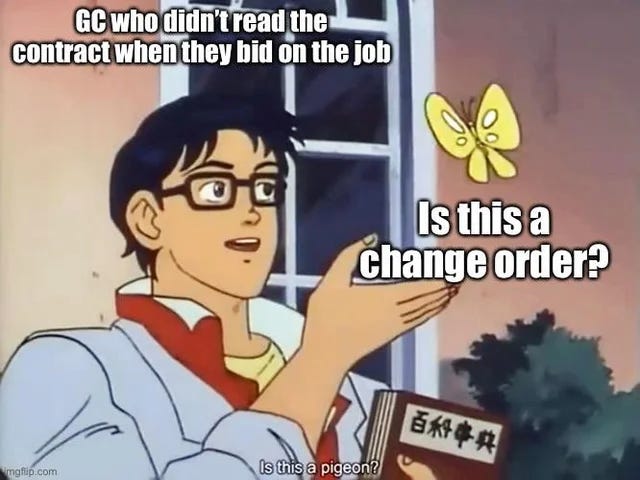 ---
Construction Curiosities is a reader-supported publication. To help pay the bills to keep it going and growing consider becoming a paid subscriber. Paid subscriptions also come with some additional perks. Check it out:
Appreciate your Support!!!
Want to be featured in an upcoming Reader Spotlight?? Shoot me a message at [email protected] and let's chat. It can be anything construction related! Look forward to seeing and sharing what you all are working on!
Hope everyone has a great weekend!